ClevCalc - Calculator
2.16.18
A Calculator for Your Every Need
You never know when you will need a calculator and when you download the ClevCalc calculator you will get access to a calculator for practically every event. There are 17 in total and each one can be available with just a few clicks. If you need help to use any of the functions, the Help Page will show you everything that you need to know.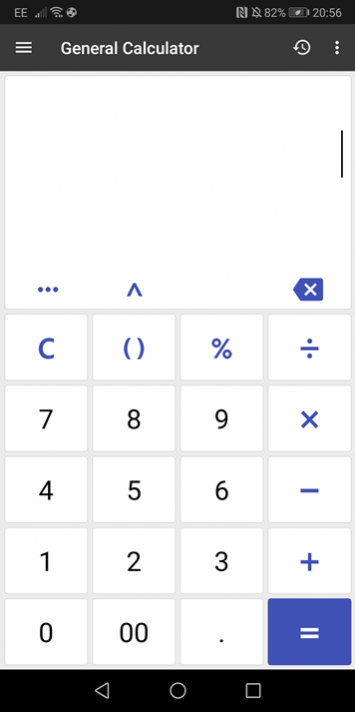 The first calculator that you come to is the general calculator. It is set out in exactly the same way as you will find any calculator set out. The keys are large and clear meaning there is less chance that you will hit the wrong button. It will let you carry out all of the 4 main mathematical process as well as working out percentages. It can be used for students working on trigonometry and changing incorrectly added numbers is easy. In case you forget something that you had previously calculated, there is a history kept so you can go back and find it.
There is a Unit Converter and that will change weight, volume, temperature and speed among other things to a version you know better. The Currency convertor will be able to give you a specific amount in 132 currencies. It is up to date and will never give you an out of date exchange rate. The discount calculator turns a percentage to a figure while the World Time Convertor covers 400 Cities. GPA can be calculated as can Ovulation which is ideal for people wishing to have a baby.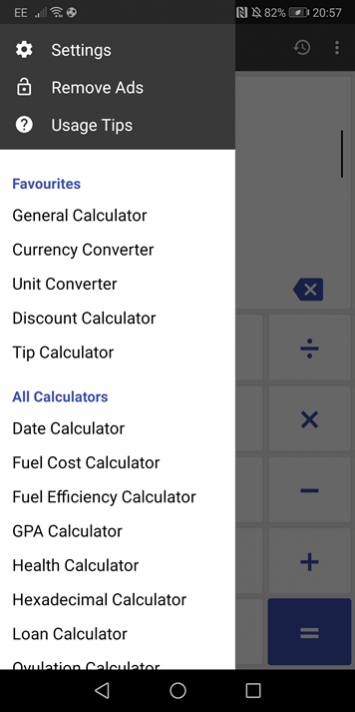 A Date calculator will let you work out how long there is until you reach a specific date, while the Unit Price Calculator gives the unit price when the price is for a large amount and vice versa. Good health can be kept by checking the Health calculator with its body mass indicator (BMI) and basal metabolic rate (BMR).
Travellers will be able to be fuel savvy when using the Fuel Efficiency Calculator and can work out the cost of the journey with the Car Fuel Cost Calculator. Just enter the total number of miles that you will be travelling and the cost of the fuel that will be used and you can get the full amount. Very helpful when a group of people need to share the cost of the journey.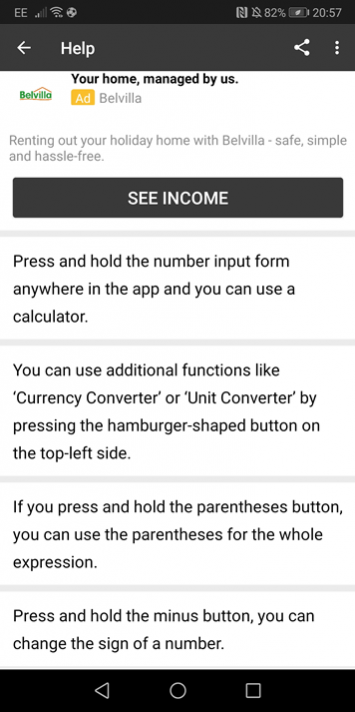 Use the Hexadecimal Convertor to move between hexadecimal and decimal and also work out your VAT when you use the VAT/GST Calculator. If you have taken out a loan or intend to apply for a loan then you will be able to work out the best one to apply for. You will be able to work out the monthly repayments and the total amount of interest that you will pay.
Savings will be just as important as getting a loan and the Savings Calculator will let you know how much interest you can receive in a set amount of money over a set period of time. By using this you will be able to get the most from your money and open the best savings account. Finally, the tip calculator means that the right amount can be left and everyone contributes the right amount.
Features
Large clear buttons
17 different calculators
Help page
Chance to save histories
Can put favourites to the top of the list
Conclusion
With just one app you can work out everything you will need in your everyday life and somethings that rarely happen. Plenty of help is available if you struggle with one of the calculators and as the buttons are large and clear, there should not be mistakes made when pressing the buttons.
---
Add a review
Tell us your experience with
ClevCalc - Calculator
2.16.18
RELATED PROGRAMS
Our Recommendations
---
---
---
---